Five More Warped Tour Bands Announced
As promised, five more bands who will be raging at this summer's Vans Warped Tour were announced today. And they are...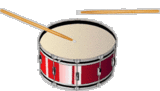 (That's a drumroll, DUH)
Family Force Five
Lucero
Enter Shikari
Big D and The Kids Table
Of Mice & Men
Thoughts? I'm a bit apathetic about this batch, but I have a few months to test 'em out.
Check out the Warped Tour 2011 Sneak Peak playlist. It's apart of the Free on iTunes app on Facebook.
You'll
♥
Loading related posts from sailthru...
---
blog
Alter The Press! is an online pop/alternative music publication that provides up-to-date news, reviews, interviews with all your favorite bands and more.
ALTER THE PRESS
Partner